Permissions Required – Admin
safedrop reminders offer a great way to chase recipients to ensure they access a safedrop before it expires. The default behaviour is for the reminders to be sent every 3 days until a recipient views a safedrop.
To enable safedrop reminders, you will need Administrator access to your account.
Step 1 – Access the admin interface from your safedrop home page by doing the following
Click on Admin in the top right-hand menu.
Click on add users in the main section of the page.

Step 2 – Safedrop Admin Interface
click on My safedrops in your site menu (next to Dashboard, Site Members etc.)
Then hover over safedrops folder and select Edit Properties.

Then click All Properties
Scroll down until you find the Reminder Settings box and make sure to check the box and set the safedrop reminder max count (this is the number of reminders sent out)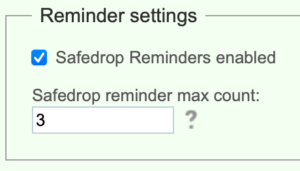 Once you are done scroll to the bottom of the page and press save